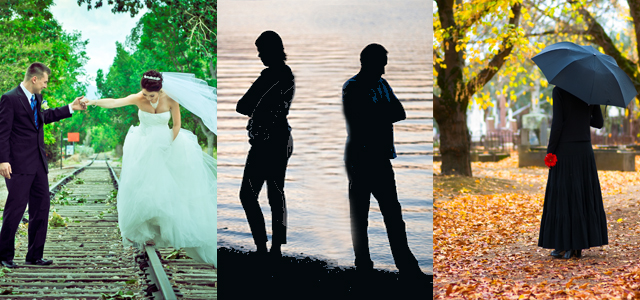 Life changes like marriage, divorce and widowhood are considered among the most stressful to endure. That pressure is intensified when one's finances are out of line with the new state of being. But who has the presence of mind to deal with their finances when emotions are in turmoil? That is where proper planning and guidance come positively into play. A financial plan that considers contingencies and the right financial advisor will help navigate those turbulent periods.
Marriage An old saying claims that "When poverty comes in the door, loves flies out of the window." To update that for today, let's consider that financial woes and miscommunication between spouses form a primary cause of marital discord. That can be avoided by:
Discussing views on financial management prior to marriage and coming to a proper understanding and compromise. (It's always a compromise.)
Acquiring the services of a knowledgeable financial planner.
Creating a financial plan that is based on common life goals, available resources and a well thought out time line.
Divorce (a.k.a. conscious uncoupling) Emotional discord clouds judgment in reaching an equitable financial settlement. It is through the creation of financial projections for both parties that a swift and equitable settlement can be reached. Short of that, the parties remain mired in conflicting emotions that hamper settlement. A financial advisor schooled in the intricacies of divorce financial planning can work with both parties and their attorneys to fact find and then sort through conflicting demands to factually illustrate that both parties are going to be all right financially going forward. That doesn't mean that everyone gets what they originally wanted, but the result is equitable and actionable. Then settlements can occur and the parties can get on with their separate lives.
Widowhood Male or female, the passing of a spouse necessitates a financial assessment. Often, if the survivor is not the person who formally handled family finances, he or she feels immobilized. The process here is the reverse of the pre-marital planning. Now we are planning for only one, and many life style decisions come into play in addition to income needs planning, family gifting and estate planning. This is the time to make haste slowly as all aspects are considered as part of an integrated life and financial plan. The services of an empathetic and knowledgeable financial planner are essential in making this transition successful and less stressful. Going through a major life transition? Fragasso Financial Advisors works closely with our clients to help guide them through all phases of life planning.